During a group therapy session for people with posttraumatic stress disorder (PTSD), I was asked to respond to the following poem: "The Road Not Taken" by Robert Frost.
Two roads diverged in a yellow wood,
And sorry I could not travel both
And be one traveller, long I stood
And looked down one as far as I could
To where it bent in the undergrowth;
Then took the other, as just as fair,
And having perhaps the better claim,
Because it was grassy and wanted wear;
Though as for that the passing there
Had worn them really about the same,
And both that morning equally lay
In leaves no step had trodden black.
Oh, I kept the first for another day!
Yet knowing how way leads on to way,
I doubted if I should ever come back.
I shall be telling this with a sigh
Somewhere ages and ages hence:
Two roads diverged in a wood, and I–
I took the one less traveled by,
And that has made all the difference
As a trauma survivor, instead of the excitement of the unknown I'd previously felt when reading Frost's poem, I experienced the following. The chalk art is my own.
Sometimes the road we travel down is chosen for us.
And once taken places we did not want to go, we have a choice: we either continue toward darkness and self destruction, or we choose to fight our way through the unending obstacles toward lightness and hope.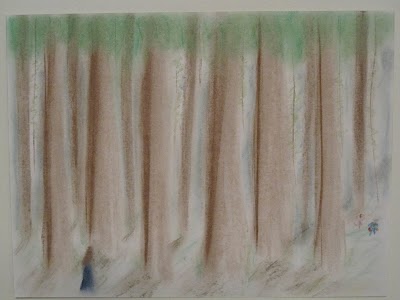 I chose to fight and, while I am not out of the woods yet, I am in a better place than I was at the beginning of this twisted rabbit's hole. I have many who have helped me when I could not see–a community of loved ones and friends who continue to call out, "Over here… you're so close… keep coming." To those people, both known & unknown, thank you. Thank you for loving me, supporting me, and not giving up when I do.
Because of you I can see the light and I will find hope. And when I have mastered this part of my life, I will not need a path down the mountain for I will fly!
I don't think you have to be a survivor of traumatic events to understand what I mean. I think we all have moments that are forced upon us by the choices of other people. I think we all end up places we don't want to be and we all have those moments when we want to give up. To shout, "This isn't fair! What have I done to deserve this?" We plead for a rewind, a do-over, a different life experience.
But it never comes.
Because we can't go back. We can't erase time. We can't change what happened. We can never be who we thought we were.
However, we can still become who've we always wanted to be.
To all those who are struggling on roads not taken, I promise that although the climb is difficult and sometimes even impossible, the warmth and light and view are worth every painful step. We can make it! We deserve to be there.
All of us

,

no matter where we started 
can learn to fly.
Dear Friends, how does "The Road Not Taken" resonate in your life? What has helped you overcome obstacles on your trek to the mountain top?